About Us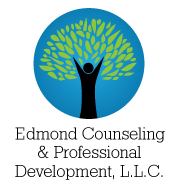 Edmond Counseling and Professional Development started in 2014 is a small counseling agency in Edmond, Oklahoma whose goal is to provide empathetic, high quality counseling services to children, teens, and adults.
In 2015, Edmond Counseling began providing CEU workshops for Oklahoma mental health professionals through it's Oklahoma Counseling Institute™. By 2019 Edmond Counseling was providing thirty CEU workshops per year for Oklahoma LPCs, LMFTs, LADCs, and LCSWs.

With the introduction of COVID-19 and quarantining becoming the new reality, Edmond Counseling pivoted by increasing it's online continuing education workshops and is proud to have granted CEUs to over a thousand Oklahoma mental health professionals in 2020.
In 2021, we expanded our online offerings to include a searchable database of mental health providers and exclusive articles concerning licensure board decisions, insurance changes, and mental health resources.
In 2022, we upgraded our online presence with a new website and education platform. In addition, we hosted our first conference the Summer Super Summit in May of 2022.
It is our goal to serve as an invaluable resource of information for Oklahoma mental health professionals and to provide convenient, affordable, Oklahoma board approved CEUs both in-person and online.