Mental Health Clinicians Worried About Potential Ethical Challenges of Health Information Exchange
Date posted
March 14, 2023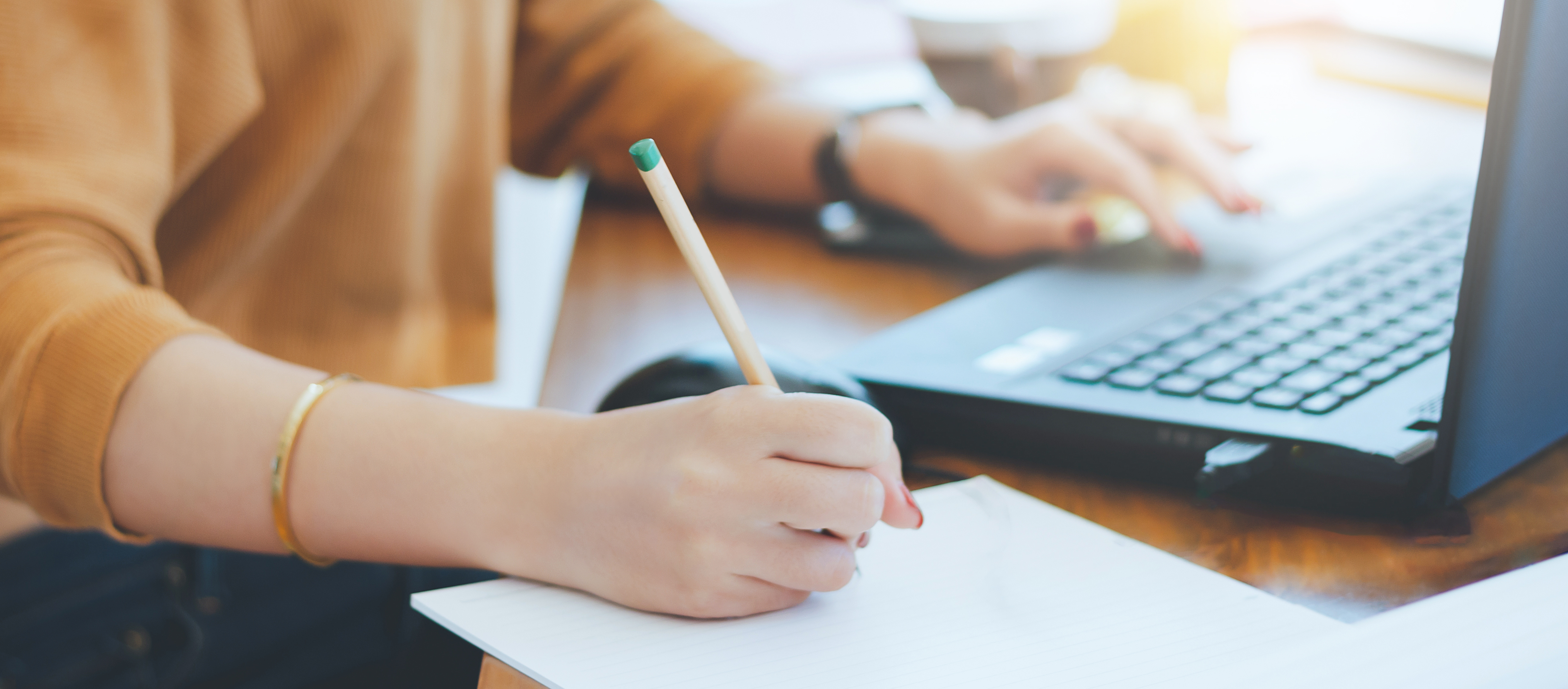 Pictured above: a therapist takes notes on piece of paper while looking at a laptop.
Earlier this year, the Oklahoma Healthcare Authority invited public comment on the proposed rules for the Oklahoma State Health Information Exchange (OKSHINE). According to the OHCA, Health Information Exchanges (HIEs) are healthcare information databases that allow for patient healthcare records to be shared and accessible to all providers who are part of the HIE. HIEs are intended to aid in the coordination of care between providers in that a patient's medical records will be readily accessible, thus allowing providers to easily review a patient's health history and decrease redundancies in treatment, such as retesting.
In 2021 Senate Bill 574 created the Oklahoma State Health Information Exchange (OKSHINE) and in 2022 Senate Bill 1369 created the Office of State Coordinator for Health Information Exchange, which is overseen by the OHCA. Since the laws creating OKSHINE have passed, OHCA has been tasked with creating the permanent rules for implementation. Though the intended rules appear to mandate all medical providers share active patients' medical information to the HIE network, Oklahoma mental health professionals have voiced concerns regarding the unintended negative impact OKSHINE may have on mental health clients' rights and privacy.
According to a KOCO article interview with Shay Espinosa, LPC, an administrator of the Facebook group Oklahoma Providers for Privacy, mental health providers are worried that sensitive information in clients' progress notes may be too easily accessible in the HIE, possibly leading vulnerable populations, such as victims of abuse, to feel unsafe. Along with the privacy considerations, clinicians on the Oklahoma Providers for Privacy Facebook group have also voiced concerns about the cost of OKSHINE. According to OHCA, agencies would be responsible for a $5,000 fee to connect their electronic medical records software to MyHealth Access Network, the state designated entity for managing the HIE.
In the above KOCO article, Ellen Buettner, chief of staff at OHCA, stated there would be safeguards in place to protect patients' records from those who have not been authorized to view them. A fact sheet has been released by OHCA, which states that behavioral health and psychotherapy progress notes may be considered sensitive and excluded from the HIE. However, it is not clear if notes will be excluded from being uploaded at all or only excluded from being shared. MyHealth Access Network has an opt out form available on their website that appears to allow patients to request their health information is not viewable on the network, though it seems it does not allow patients to opt out of their information being uploaded.
Many Oklahoma LPCs are also concerned that following the proposed mandate to release active client records to the HIE may violate their ethical code. According to the American Counseling Association Code of Ethics, "unless exceptions to confidentiality exist, counselors obtain written permission from clients to disclose or transfer records to legitimate third parties" and, as stated in the Licensed Professional Counselor Permanent Rules, "LPCs shall maintain the confidentiality of any information received from any person or source about a client, unless authorized in writing by the client or otherwise authorized or required by law or court order." At this time, there is no word on if the proposed OKSHINE regulations would call for clients' written permission to be gained before their information is provided to the HIE.
It is also unclear at this time how authorization will be granted to providers who wish to view medical information in the HIE. According to a presentation by Stephen Miller, State Coordinator for the Health Information Exchange, the Department of Corrections, Department of Human Services, and other programs may have access to the information in the HIE. Other states also have Health Information Exchange programs, though some, such as California, have special protections for mental health and substance abuse treatment records.
Proposed changes to rules are scheduled to be reviewed and made permanent at the OHCA Board of Directors meeting on March 22nd. Though public comment on the proposed permanent rules for OKSHINE closed as of March 3rd, attendees of the March 22nd OHCA board meeting may sign up for up to 2 minutes of in-person public comment by emailing publiccomment@okhca.org at least 24 hours before the meeting. As of the publication of this article, all Oklahoma medical providers are required to be compliant with OKSHINE by July 1st, 2023. For more information on OKSHINE and to stay up-to-date with implementation, follow the Oklahoma Providers for Privacy Facebook page.
The Oklahoma Counseling Institute has provided an information page for the general public at OklahomaMentalHealth.com