Self-Exclusion Programs Aim to Combat Problematic Gambling Among Oklahomans
Date posted
August 25, 2022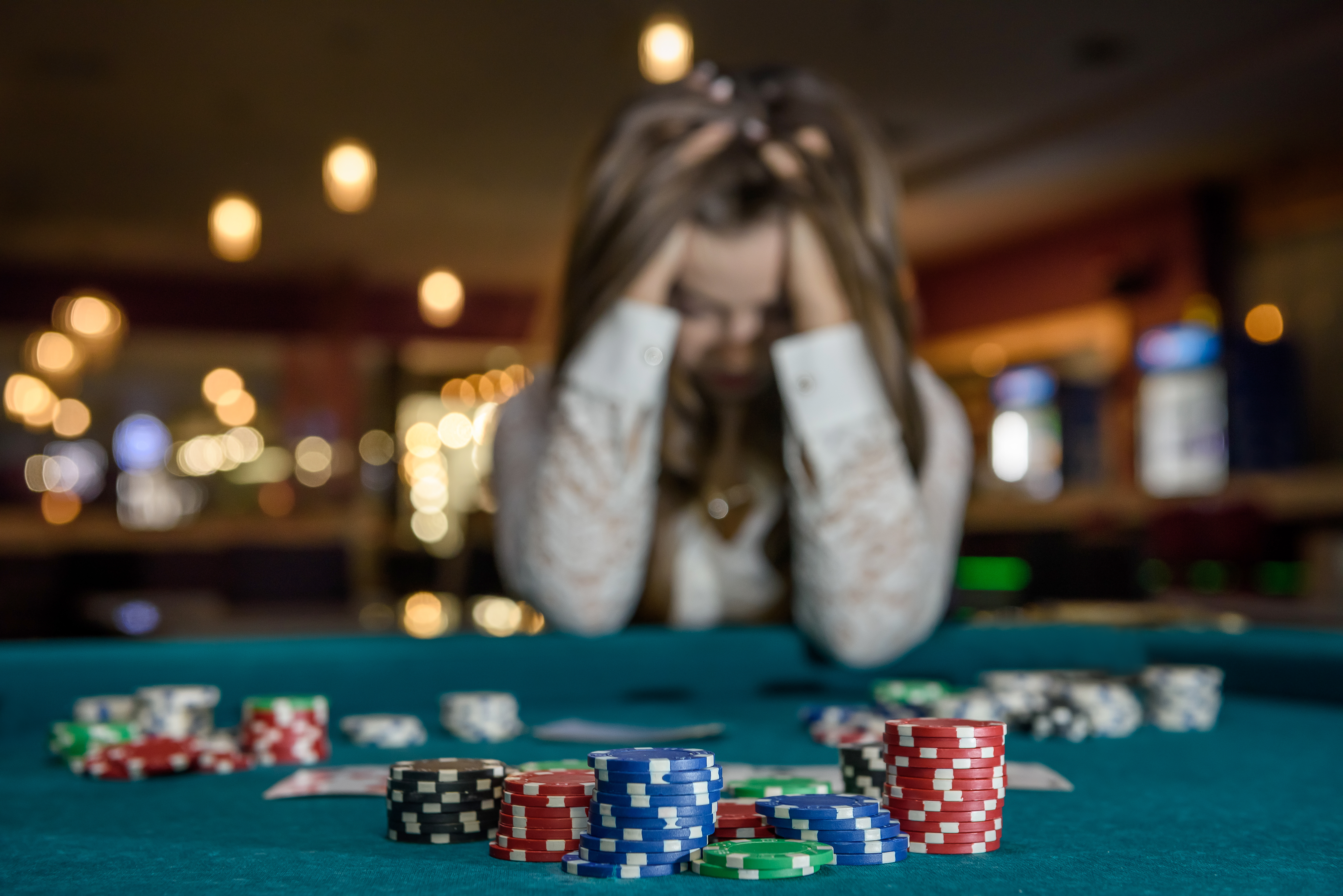 Pictured above: a woman sitting at a casino table lined with poker chips, holding her head in her hands.
With access to over 130 casinos in Oklahoma alone, research by the National Council on Problem Gambling estimates that 74% of Oklahomans gambled in 2019. According to the Oklahoma Association on Problem Gambling & Gaming (OAPGG), approximately 3.2% of Oklahoma adults meet criteria for a gambling disorder. However, according to OAPGG Director Wiley Harwell only 10% of Oklahomans experiencing problem gambling seek help.
According to the American Psychiatric Association, problem gambling is associated with repeated thoughts about gambling, risking relationships and employment due to gambling, gambling when distressed, irritability when attempting to decrease gambling, and other related behavioral and emotional symptoms. Studies also suggest that Gambling Disorder is associated with a significantly increased risk of suicidal behaviors. While the APA states that support groups, self-help interventions, and counseling can be helpful in decreasing problematic gambling, Oklahoma state and non-profit organizations have also created self-exclusionary programs to further mitigate problem gambling.
Self-exclusion programs are voluntary agreements that bar individuals from participating in gambling. Currently, 17 Oklahoma tribal gaming commissions and 94 casinos partake in the OAPGG Statewide Self-Exclusion program, which allows Oklahomans to ban themselves from participating casinos for up to 10 years by completing a single form. Once the Self-Exclusion form is submitted to OAPGG, the individual is irrevocably registered in the self-exclusion program. Those who choose to self-exclude themselves may receive a trespassing charge for entering casinos from which they are excluded and will not be awarded any potential winnings.
Though not all Oklahoma casinos currently take part in the OAPGG Statewide Self-Exclusion Program, according to an Oklahoma Council of Public Affairs interview with OAPGG Director Dr. Wiley Harwell, all tribal casinos are required to have a self-exclusion program. The Oklahoma Lottery Commission also oversees a lifetime self-exclusion program. After entering into the Oklahoma Lottery self-exclusion program, individuals may no longer claim cash or any other prize awarded through the state's lottery.
The statewide self-exclusionary program forms for Oklahoma casinos and the Oklahoma lottery can be found on the OAPGG and OK Lottery websites, respectively. Mental health clinicians who wish to further develop competency in treating problem gambling may seek training through the OAPGG. Under the direction of Dr. Wiley Harwell, OAPGG offers a 30-hour Basic Training for Problem Gambling Certification for therapists. For more information on the training or the statewide self-exclusionary program, visit the OAPGG website.