Research Suggests Possible Therapeutic Benefits of Psychedelic-Assisted Therapy
Date posted
September 26, 2022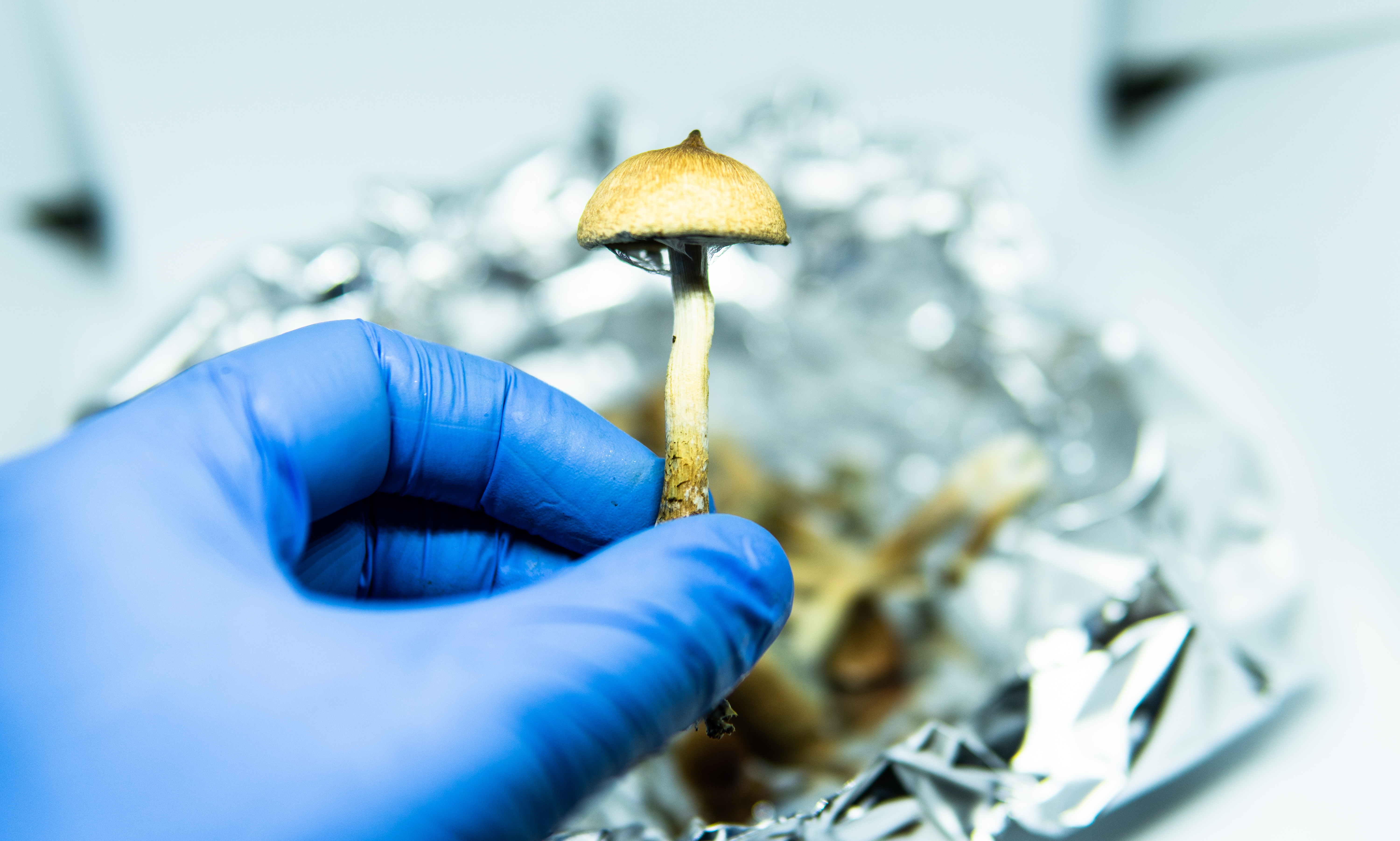 Pictured above: A researcher wearing blue gloves holds a psilocybin mushroom.
In 2020, Oregon became the first state to legalize the use of psilocybin in clinical contexts. Psilocybin, a psychedelic substance often found in mushrooms, is known to produce hallucinations and has been studied for its possible medical benefits by researchers at Johns Hopkins University since 2000. According to research by Johns Hopkins, psilocybin may be helpful in treating symptoms of anxiety, depression, and addiction. The research center has also announced plans to further study the possible uses of psilocybin for the treatment of Alzheimers, post-traumatic stress disorder, and opioid addiction.
Earlier this year, House Bill 3414 was introduced to the Oklahoma legislature, which aimed to decriminalize the possession and use of psilocybin for research purposes in the state of Oklahoma. Though the bill ultimately did not pass, Representative Daniel Pae, who originally authored the bill, informed the Oklahoma Counseling Institute staff in a recent phone call that he plans to complete an interim study on psilocybin-assisted therapy on October 20th and reintroduce the bill to the legislature in 2023. Rep. Pae stated he hoped the interim study would highlight what he reports to be the potential medical benefits of psilocybin in the treatment of post-traumatic stress disorder and, if passed, the bill would allow Oklahoma to be a leader in psychedelic-assisted therapy research.
To learn more about emerging research on psychedelic-assisted therapy, watch the on-demand webinar "An Overview of Psychedelic-Assisted Therapy for Mental Health Professionals" with Dr. Brian Pilecki. Dr. Pelicki is a clinical psychologist with Portland Psychotherapy in Portland, Oregon who specializes in the treatment of anxiety, depression, and trauma-related disorders and researches the process of change in psychedelic therapy. For more information on all of OCI's webinars, visit www.counselinginstitute.org