7 Things Mental Health Professionals Should Consider Before Leaving the Office this Holiday Season
Date posted
December 14, 2021
Posted By: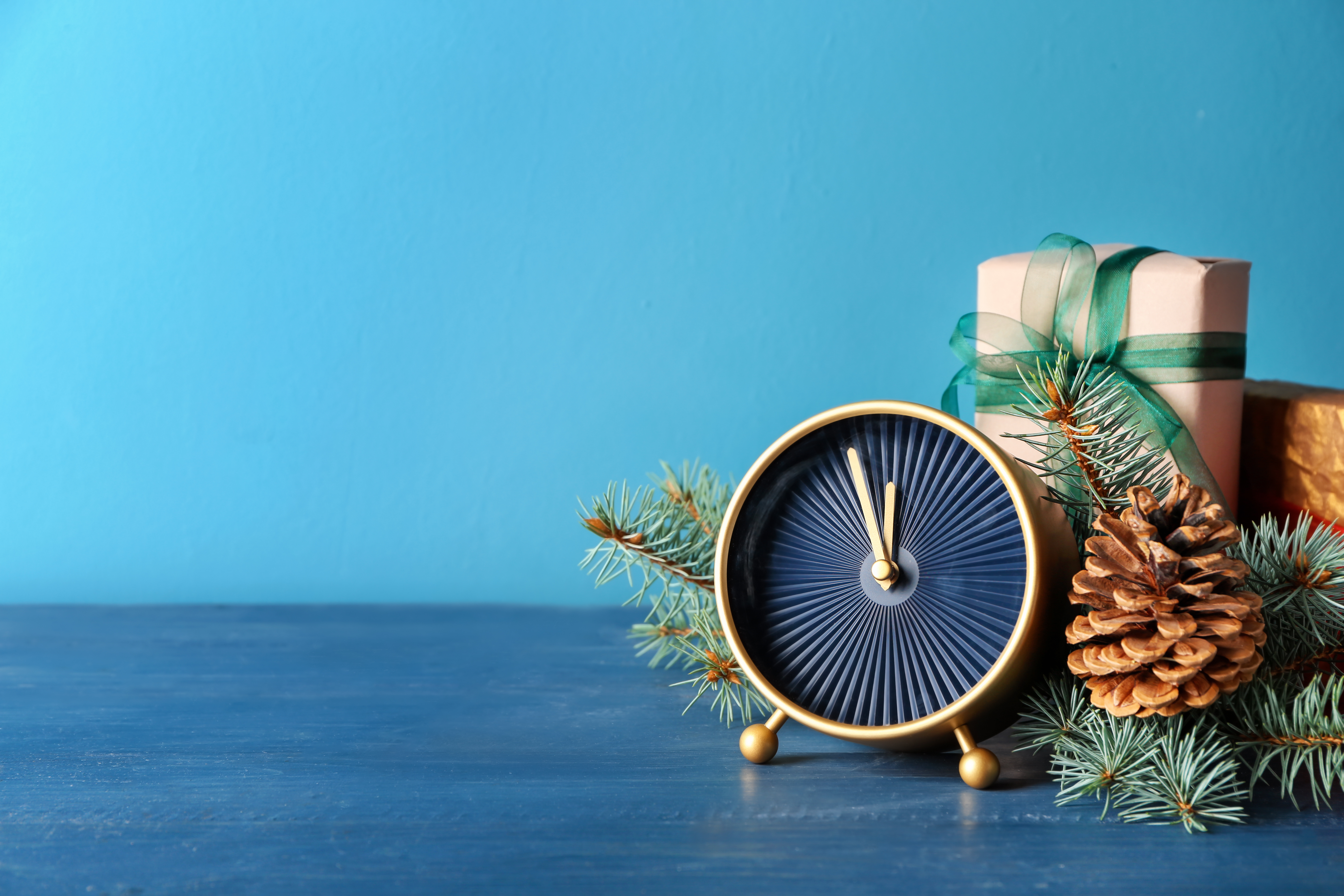 Pictured above: a small black and gold clock next to pine needs, a pine cone, and wrapped gifts
Both professionally and personally, the holidays can be a busy time of the year for therapists. Many find themselves traveling or taking time away from work to spend time with loved ones and celebrate the season. Whether a clinician plans to be out of the office or continues to provide counseling over the next few weeks, there are many aspects to consider to make sure clients' needs are met, including,
Informing Your Clients
Whether they are seen on an as-needed basis or weekly, it is important that clinicians inform their clients if they will be unavailable for services during their regular business hours. After informing clients of their absence, there are other steps that may be important to take to reduce a clinician's liability, as well as provide support for their clients while they are out.
-
Reviewing Safety Plans
When preparing to be out of the office for an extended period of time, clinicians should especially take time to check in with clients who may be at risk for suicidal ideation or other mental health crises and review safety planning before leaving the office. Clinicians should then document their encounter, as well as be sure to schedule a follow-up session upon their return. Along with safety planning, clinicians may also review sources of support.
-
Connecting Clients with Support
The holiday season may be a stressful or isolating time of the year for some. If a clinician will be unavailable for an extended period of time, it may be helpful to review other sources of social and emotional support, like family members or friends, that the client may have outside of the therapy office. Clinicians may also choose to refer their clients to various therapy and support groups that take place across the state for additional care. For more information on groups, check out OCI's recent article here.
-
Providing Secondary Resources
Clients who have recently reported experiencing suicidal ideation or may have recently been discharged from higher levels of care may need additional support when their primary therapist is out of the office. Clinicians may find it beneficial to ask colleagues to schedule phone call check-ins or additional sessions with at-risk clients while they are out of the office. Along with acquiring a client's consent to be contacted by a secondary therapist, the clinician should also be mindful to take care of additional consent forms, if necessary. If a therapist is unable to coordinate a back-up clinician, they should provide contact information for crisis lines and hospitals to at-risk clients. Whether the clinician provides referrals to a secondary therapist or a crisis center, the decision should be documented.
-
If Traveling, Doing Your Due Diligence
Some mental health professionals who are traveling for the holidays may still choose to schedule their own check-in phone calls or sessions with clients while they are out of state. If so, clinicians who are traveling outside of Oklahoma must be mindful to check with the licensing boards of the states they will be in when holding sessions. Some state licensing boards allow for therapists to continue to hold telehealth sessions as long as the therapist is licensed in the state in which their client is logging on. For others, if a therapist is not licensed in the state in which they are holding session, regardless of where the client is located, the therapist may not hold a telehealth appointment. For more information on considerations for holding telehealth sessions across state lines, review OCI's article here.
-
Getting Permissions to Hold Session with Traveling Clients
Though many travel for the holidays, some clients may choose to keep their regular appointment time even if they are far from home. As clinicians need to make sure they have permission from states' licensing boards to make sure they can render telehealth services if they themselves are traveling, clinicians should also make sure to receive permission to see clients who are traveling. Some states, like Florida and Washington, may allow clinicians who are licensed in other states to hold sessions with clients who are temporarily visiting. Others, like Texas and North Carolina, do not grant such permission.
Though Oklahoma state law mandates that clinicians record the current address of the client during every telehealth session, it may be important for clinician to ask their clients to inform them of any out-of-state travel at least a week before hand in order to allow for adequate time to contact the respective state boards for permission to hold session or reschedule session when the client returns to Oklahoma.
-
Setting Boundaries While Away from Work
An important component of self-care and burnout prevention is taking time away from work. Scheduling time away from the office, informing clients of when they will be out, and setting an automatic out-of-office notification reply to emails or text messages can all be helpful in setting a boundary between being a therapist and celebrating the holidays with loved ones.
-