7 Things to Consider Before Joining TalkSpace
Date posted
August 12, 2021
Posted By: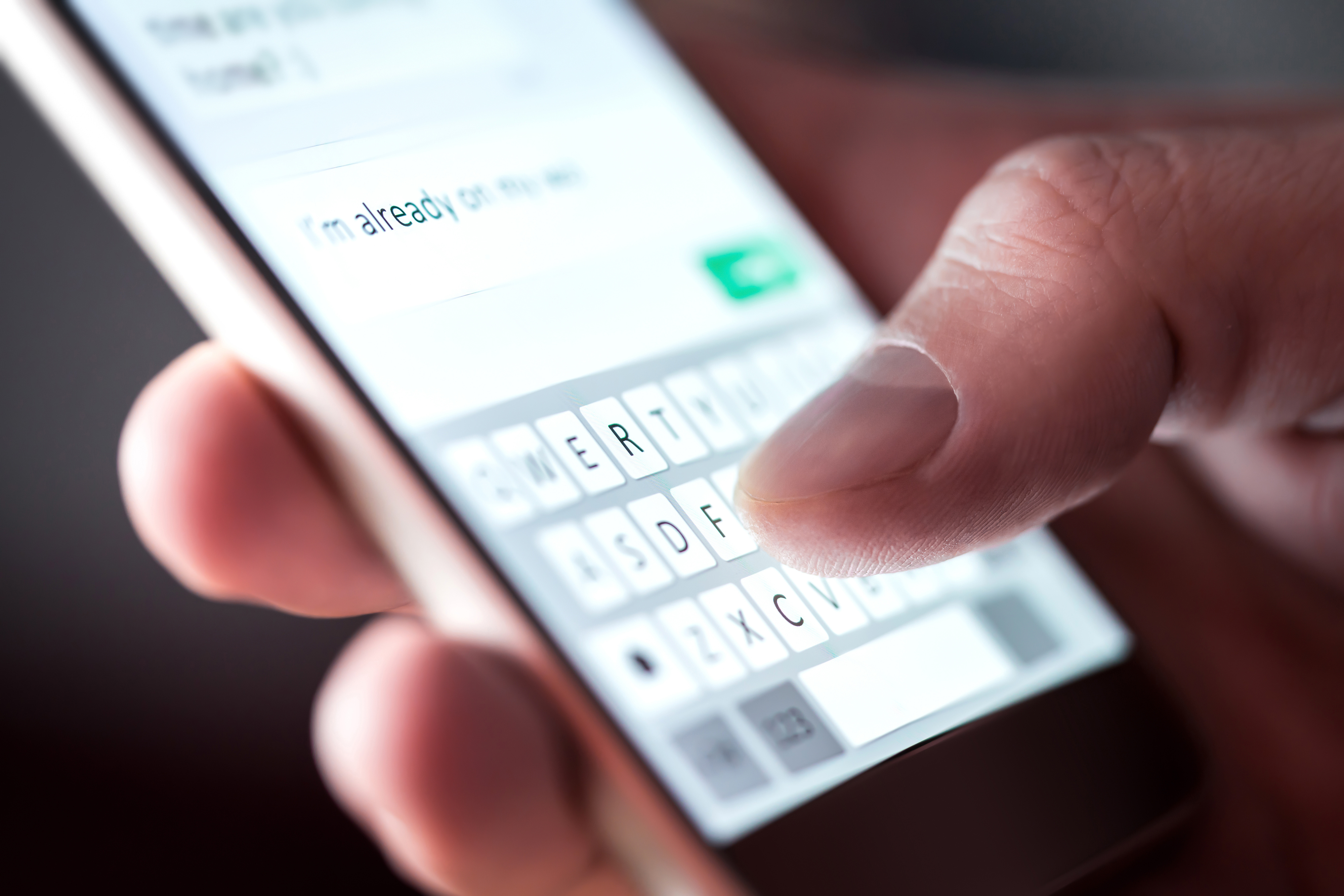 Pictured above: A close up of a hand typing a text on a smart phone
The increase in mental health related struggles in Americans throughout the pandemic has risen in tandem with the use of therapeutic online services, such as TalkSpace. With its growth in popularity, many clinicians may be asking themselves if TalkSpace is suitable for parttime or fulltime work. Drawing from information published on the company's website, a recent article in the New York Times, and statements provided on the condition of anonymity by three Oklahoma-based former TalkSpace clinicians, here's what to consider before contracting with TalkSpace.
What is TalkSpace?
TalkSpace is an online therapeutic service in which clients can connect with mental health professionals via phone, video chat, and, more commonly, text message. According to the company's website, the aim of TalkSpace is to "provide more people with convenient access to licensed providers." The company states that the service is not meant to replace traditional therapy, but rather act as a supplemental resource for clients to explore emotions and work through the challenges of daily life.

The Work Schedule
According to the TalkSpace website, therapists who work full time for the company are required to clock 40 hours over a 5-day period. The job description advertises that clinicians are able to set their own hours, though a client has access to leave messages for the therapist at any time of day. The company's website markets "24/7" access to message their therapist, though therapists appear to only be contractually obligated to respond during their set work hours. Clients are also able to use the "Guaranteed Response Time" function to set a "reply by" deadline with their therapist, which TalkSpace reports is always within the clinician's set work schedule.
The Work Load
While therapists are able to set their own schedules, the workload therapists are expected to carry may be higher than traditional therapy practices. In the company's clinician job description, TalkSpace reports fulltime clinicians are expected to keep a minimum caseload of 80 clients with TalkSpace and schedule a check in with each client 2-5 times per day, five days per week.
Communication with Clients
Which tier of the TalkSpace therapy plan a client pays for determines what kind of contact a therapist is expected to have with the client. For example, clients who have access to the Unlimited Messaging Therapy Plus plan are expected to only be contacted by video, photo, text, or voice messaging 5 days per week. Those clients on the Live Talk Therapy Ultimate Plan also receive 4 30-minute video sessions with their therapist each month. Clinicians with TalkSpace are expected to use the company's software to communicate and be available 5 days per week to meet their clients' needs.

Pay
According to salaries reported on the website Glass Door, a therapist with TalkSpace may expect to earn approximately $20 per hour. However, this pay may be contingent on therapist performance. According to an interview with a previous TalkSpace employee in the New York Times, therapists who miss the "Guaranteed Response Time" deadline typically receive a deduction in pay. A conversation with an Oklahoma mental health clinician who formerly worked for TalkSpace revealed a similar report. This clinician stated that not only was the pay of therapists' text responses based on word count, but that the pay could be decreased if a therapist did not meet a client's "reply by" deadline.
Complaints
In the same New York Times piece, it was stated that a common complaint of mental health professionals working with the company is the pay discrepancy. Though clinicians may earn approximately $20 per hour, clients typically pay $65 to $99 per week for access to the service, regardless of actual use. According to the Oklahoma clinician referenced in the paragraph above, if a client did not engage in therapy the therapist was not paid. The clinician also reported that in their experience, there were not enough active clients in Oklahoma to fulfill a 40 hour work week.
Ethics
According to the interviews with two other Oklahoma mental health clinicians, therapists were unable to refer a client to a different clinician if they believed their skill set did not meet the client's needs. This report was echoed in the aforementioned New York Times piece, in which a former TalkSpace clinician discussed an instance in which a company representative directed her to not provide referrals for outside therapeutic resources. The clinician in the article reported being concerned about the company accessing her conversation with a client, being that the company reports that all correspondence is confidential. In the piece, it was reported that the company has also been accused of mining data from text message chains between clients and therapists to use to for product development. Though representatives from TalkSpace state that data is only used to monitor therapists for potentially unethical correspondence, former employees accused the company of using the information for business development.
-