Many Rural Oklahomans Still Struggle to Receive Tele-Health Services
Date posted
February 28, 2022
Posted By:
The advent of the COVID-19 global pandemic has changed the way many therapists render services. With tele-health sessions often being held in lieu of in-person appointments, some may see this change as a way for potential clients to have more access to clinicians across the state. However, for many rural Oklahomans the switch to tele-health may have decreased their already limited access to mental health resources.

According to the Oklahoma State Department of Health's Office of Primary Care & Rural Health Development, many Oklahoma counties have a shortage of mental health care providers. Though tele-health has allowed clinicians to offer services to clients in distant counties who may not usually be able to make it into a physical office every week, those individuals in areas underserved by mental health care may also be underserved by internet providers.

The US Census reported that as of 2019, only 78.6% of Oklahomans had access to broadband internet connection. While many urban Oklahoma cities report stable internet connection and choice in providers, rural residents in the state are less likely to have such resources. The overlap between lack of providers and poor internet availability may add another barrier to services to an already underserved population of Oklahomans.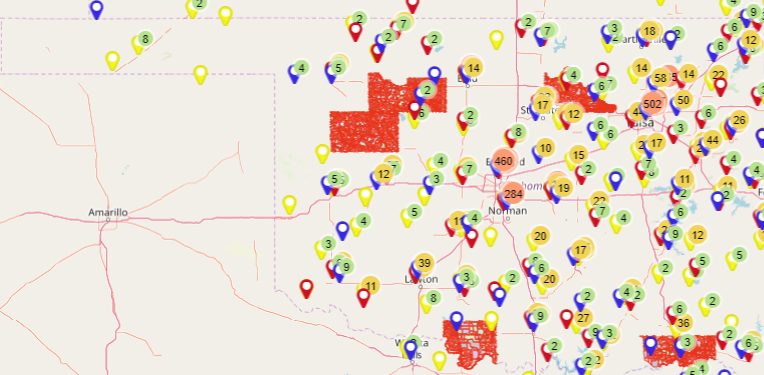 Pictured above: a map of active mental health clinician offices in Oklahoma

In comparing a map of active LPC, LMFT, LCSW, and LADC license holders in Oklahoma with a current report of the state's broadband internet connection, it was found that as of 2019 Choctaw County had 22 master's level clinicians in the county while only 26.8% of residents have broadband internet connection. Though Major County has a similar connection rate at 25.8%, there were only 2 master's level clinicians in the county. Also having only 2 active clinicians, Jefferson County has a broadband connection rate of only 2.6%. In Dewey County 24.1% of residents have access to broadband, yet there were no active clinicians listed. Lastly with only 13 clinicians operating in the county, Pawnee County has a broadband internet connection rate of 0%.

Though rural Oklahoma's internet connection has improved since 2010, the problem is far from solved. As of this year approximately 339,000 Oklahomans do not have wired internet providers where they live. As they have overhauled their practices to meet clients online, clinicians must be mindful of the Oklahomans who may be left behind.