OHCA and Insurance Companies Release More Information on Sooner Select
Date posted
April 13, 2021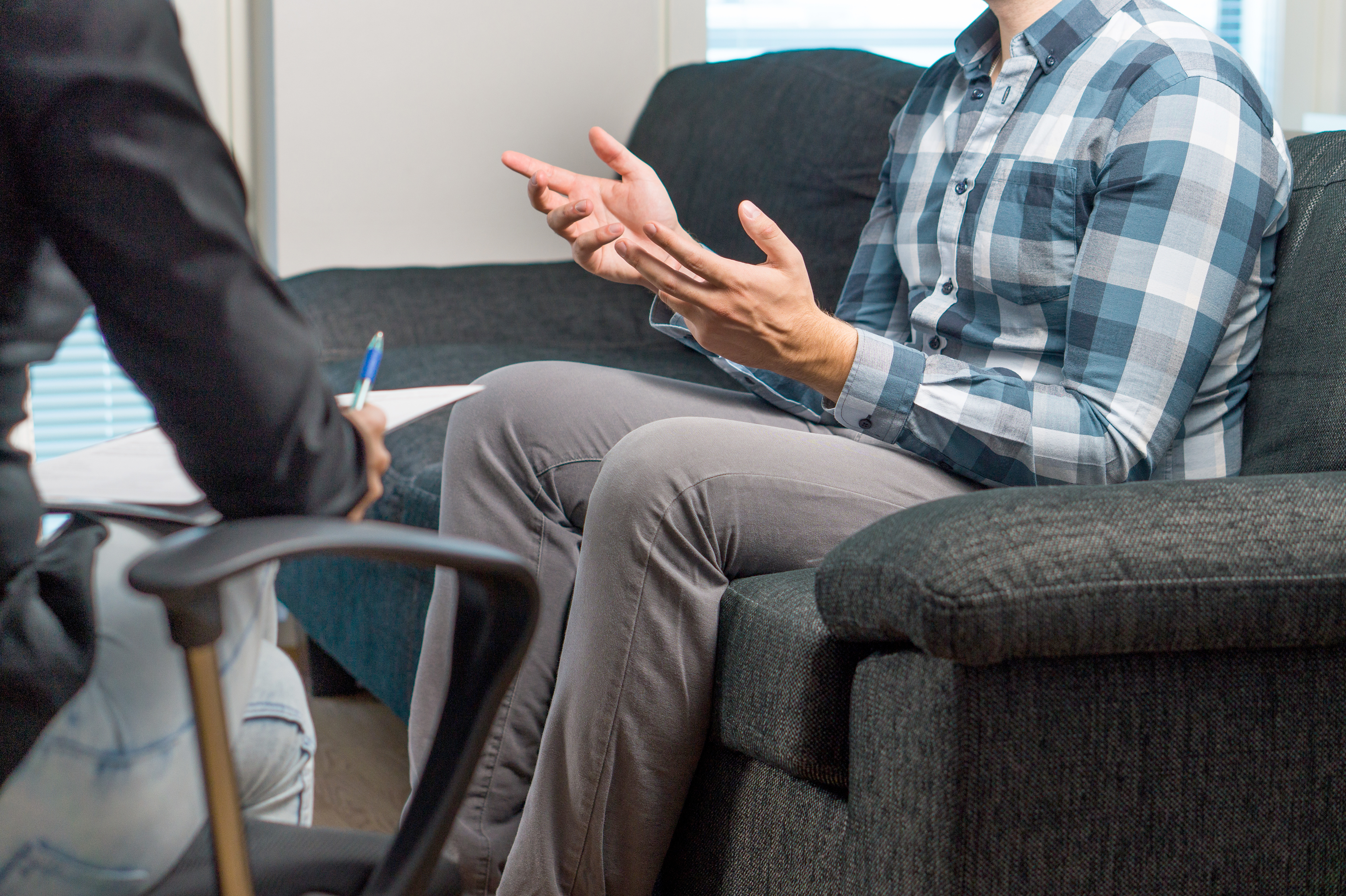 Pictured above: A client sits on a couch, talking to a therapist sitting across from him.
As the scheduled October 1st rollout for the state's new Medicaid program Sooner Select approaches, the Oklahoma Healthcare Authority, the four contracted insurance companies, and clinicians alike are preparing to take part in the managed care system. Though many Oklahoma mental healthcare providers may still have questions about how the new program will affect their practice, OHCA has recently been releasing more information on the transition.

According to the Sooner Select website, those who qualify for Medicaid in Oklahoma will be given the ability to choose between one of the four contracted companies, Blue Cross Blue Shield, Humana, United/Optum, or Oklahoma Complete Health, as their insurance provider. While each insurance plan is set to offer the same services currently covered under SoonerCare, Sooner Select members may receive additional benefits depending on which insurer they choose for coverage. The OHCA has provided a directory of phone numbers for each of the insurance companies to call for additional information.

As the implementation date for Sooner Select draws nearer, many candidates find themselves wondering if they will have the ability to continue to serve the Medicaid population once it is managed by the four insurance companies. While a representative from Blue Cross Blue Shield reported in February that candidates will be able to contract with the company under the Sooner Select plan only, other companies have been working out their protocols with the state of Oklahoma.

According to a phone call with a representative from Oklahoma Complete Health, candidates will be able to contract to provide services to those insured under the managed care program. The representative stated that in most cases Centene, the organization that manages Oklahoma Complete Health, only contracts with licensed practitioners, but has negotiated a contract with the state of Oklahoma that will allow candidates to be providers. On the other hand, a credentialing representative from United/Optum reported that at this time candidates will not be able to contract with the company under the managed care plan and must be fully licensed to apply for credentialing. As of this article, a phone call for information made to Humana has not been returned.

Over the past two months, some of the four contracted insurance companies have begun to set up information portals for clinicians who are interested in contracting with the Sooner Select program. Clinicians may access the Oklahoma Complete Health portal here. The United/Optum portal should be accessible here and the Humana portal here as the companies begin to implement their contracts. As of this publication, no portal for Sooner Select-specific information on the Blue Cross Blue Shield website appears to be published. A press release from the insurance company advised providers to contact BCBSOKMedicaidNetworkManagement@bcbsok.com for more information.