Oklahoma's Hidden Self-Care Gems
Date posted
November 16, 2021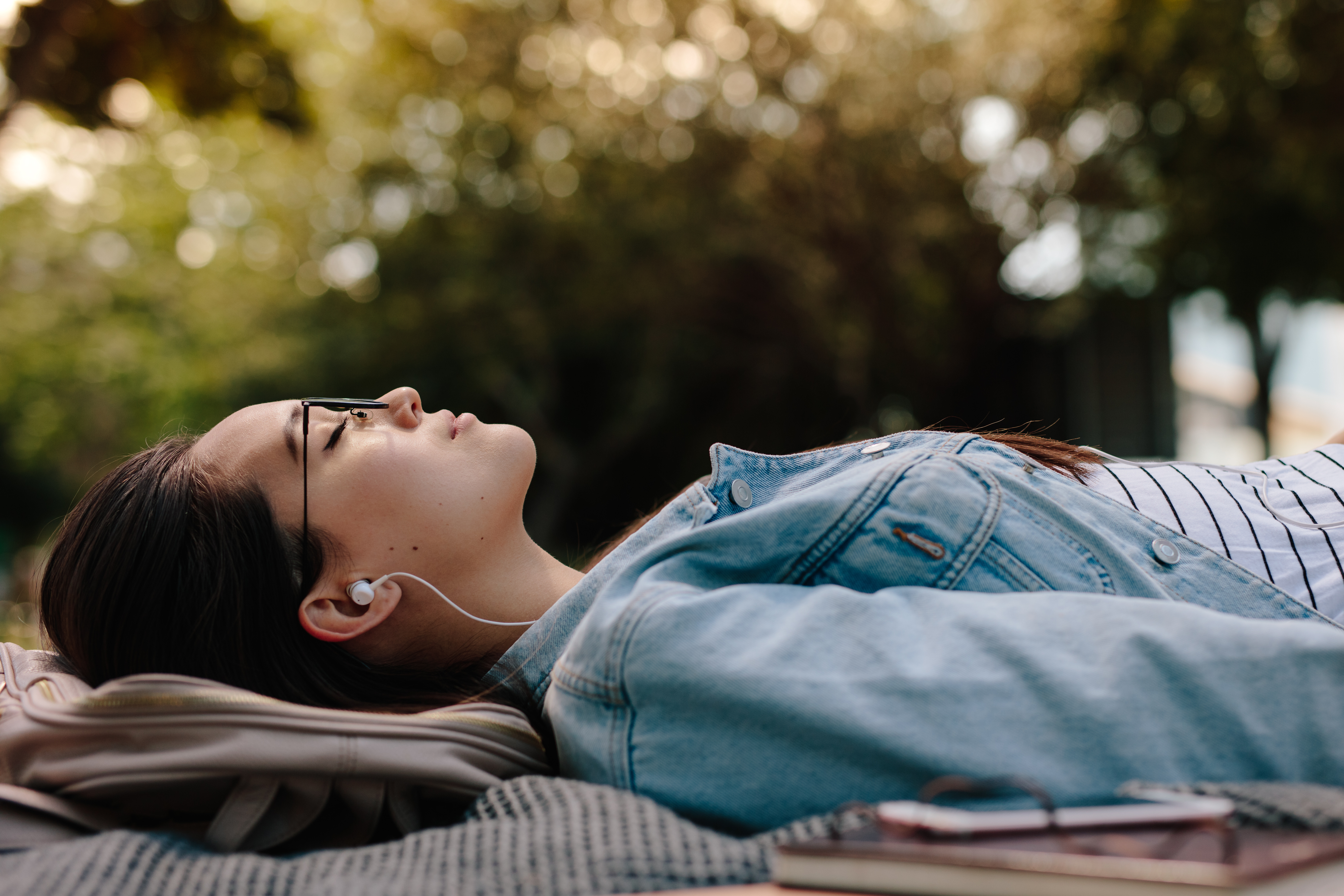 Pictured above: a therapist lays on a blanket on the ground next to a book, wearing earbuds.
"Rest." "Relax." "Take time from work." Mental health professionals are familiar with the old adages when it comes to self-care. Even those therapists with a well-established self-care routine may at times find themselves burnt-out on their usual burnout-prevention plan. Thankfully, from the great outdoors and comfortable indoors, to solo experiences and fun for the whole family, Oklahoma offers many interesting, engaging, and energizing ways for therapists to care for themselves, including…

Rest and Relaxation

For many therapists, self-care involves treating oneself to a restful, relaxing experience. For some, yoga is a mindful practice that encourages relaxation and positive mental wellbeing. The Caddo Kiowa Technology Center in Lawton offers a five-week introductory course to yoga techniques for as little as $25. For those who would prefer a professional tend to their muscles, the Integrated Massage Therapy College Student Clinic in Edmond boasts of its high-quality, rejuvenating student massages that will only set patrons back $30 per hour.

Edmond is also home to Float OKC, a salt water floatation experience, where one is able to rest in a sensory deprivation pod that aims to both relax and rejuvenate. According to Float OKC, "Floatation Therapy and Sensory Deprivation provides a multitude of benefits both cognitively as well as physically… When you come to float for the first time we will give you a tour and orientation to make sure you know where everything is and what you are doing, as well as to make sure all of your questions are answered." Similarly, H2Oasis Float in Tulsa proclaims, "Nearly every client reports having profound peace and relaxation, as well as deep concentration and enhanced creativity."
Nature

Often, a break from the hustle and bustle of life is the perfect form of self-care for mental health professionals. Oklahoma is home to many natural parks, including the Wichita National Forest, Gloss Mountains, and Keystone Ancient Forest. Each location displays the beautiful, natural terrain of the state and has opportunities for hiking, horseback riding, and more.

Those who prefer a more guided experience into Oklahoma's natural world may appreciate a visit to the Osage Forest of Peace. Along with cabins and opportunities for long-term hermitage stays, the Osage Forest of Peace often hosts meditation retreats and mindful expeditions throughout the forest to provide a guided moment for rest and reflection.
Adventure and Experience

Some clinicians find breaking routine for an adventure to be a great source of self-care. The state offers many opportunities for quirky, cool, and unexpected experiences to be shared by counselors and their loved ones alike! For a fun afternoon with the family or a significant other, a trip to a metro board game café like Edmond Unplugged may be a great choice. According to the owner, "Edmond Unplugged offers casual tabletop board game and role playing games, as well as competitive card and miniature games… The offering of food and beverage makes it where a person can stay for hours and enjoy the company and games while not having to worry about needing to leave to eat or grab a drink. Edmond Unplugged is also a safe and inclusive gaming venue for all walks of life, gaming spans and appeals to all different groups of folks, so we too make everyone feel welcomed and at home."

Likewise in Edmond, Break Room 405 offers the opportunity to those with an appetite for destruction to release pent-up feelings of stress. Break Room 405 boasts, "Some guests walk in, not realizing that during their Break Room experience they will let go of a lot of pent-up stress, frustration, anxiety and fear – you can scream, cuss, go ham on a printer, destroy several glass items and come out with a sense of real release. There is no judgement inside of our walls. It is definitely a workout, but the exhilaration you feel with all of the adrenaline-boosting activity, is the best part!"

Last, the metro is also home to Balloonworx, a hot air balloon company that offers balloon rides across the Oklahoma City skies. According to Balloonworx, "Ballooning brings you closer to your true self and to others by connecting you back to the foundational wonderment and spirit of childhood. At Visionary Balloonworx we have developed many ways to experience this… We always welcome those looking to get up close on our balloon team, as well and post flights for spectators to come watch and chase the balloons."

-